I think I'm a little late to the party.
I missed the Oscars. Not intentionally….. not unintentionally either. My interests snoozed comfortably round the spectrum of indifference. I'm not bummed about missing it, like I said, I'm just "a little late to the party". And not late in the cool, "fashionably late" kinda way…. the Nigerian kinda late when you miss the whole damn thing… and then some!
At some point over the past week, Sky News showed their typical 30 second or so entertainment news highlight/s and I came across Lady GaGa's Oscars outfit. I haven't had an "OH MY GOD!" moment in a long time, particularly concerning the red carpet, but this…..! This was definitely one!
The Dress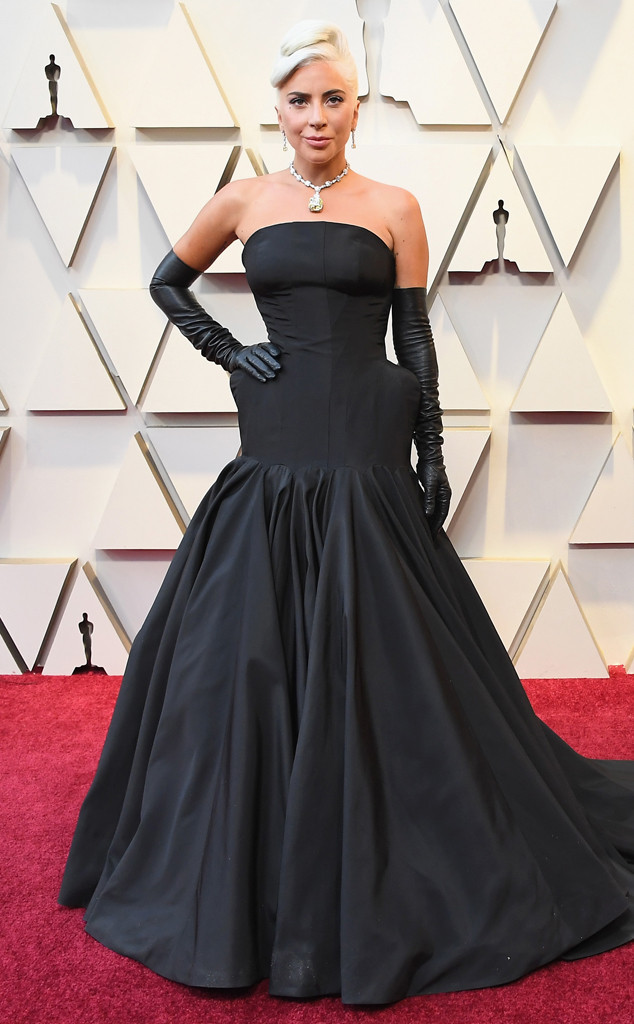 Black dresses are always a classic but the contrast against The GaGa's [monotone] pale skin and bleached blonde hair was ordained by the fashion gods. The exaggerated hips were an instant reflection of McQueen's quirkiness and the pleated skirt that expanded to floor length was breath taking, but the opera gloves and Tiffany's necklace screamed classic Hepburn from about a mile and a half off. We all know nothing screams classy like Audrey.
Now that we've got that dress out of the way, let's take a minute to appreciate that necklace shall we?
The Necklace
Taiwo and I (and secretly Wura) are forever fans of How to Lose a Guy in 10days. It's like… our go to movie. We've reached the point at which we recite the lines! So as much as I did/do appreciate the Alexander McQ dress, the real game changer was in fact that US$30mn Tiffany's gem that had Wura pretty much scream (via whatsapp of course) "She's wearing the Isadora!" LOL! That's right, the Tiffany's necklace had me 99.99% convinced GaGa was wearing the Harry Winston Isadora! (You can't say/write that name without the exclamation mark. It would be criminal.)
The rock sized canary yellow gem, supported by "miniature" white gems delicately laid between both of Lady GaGa's  collar bones and had my jaw on the floor for the best part of the next 5 mins. I don't think I've ever seen a rock that big, I don't think I've ever seen a rock that worthy! It was breathtaking, spectacular, literally jaw dropping. It just dazzles!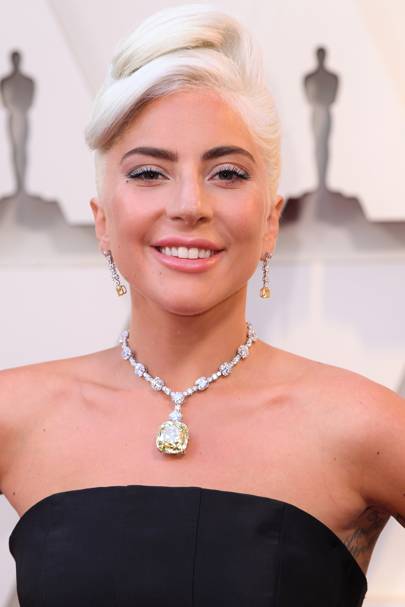 Hair & Makeup
You don't wear a necklace like that then decide to show off beach waves or silky straight hair do you? It's got to be an up do… you know… to show off the master piece. Oh and as for the make up, gotta keep it natural looking and simple. The Oscars is no carnival!
Since I saw the Gaga's outfit, I haven't bothered googling any other star's outfit. It would be unjust!
Source: GetYarn.io
This is the part where I usually ask who/what was your favourite look of the night, but today, I won't even lie, I'm not interested. LOL
xXx
Ps: I've been lusting over a yellow dress very much like Andie Anderson's on How to Lose a guy. But the price… my goodness the price!
PPs: Why was Andie carrying that horrible bag?
PPPs: I've always been a fan of Harry Winston. When I lived in a bubble I often fantasized that bae would propose with a Harry Winston… *sigh*