Since the start of the year, I've put zero effort into my physical appearance. Make-Up routines have become a distant memory, my heels have accumulated dust of varying degrees and my hair has been somewhat neglected, neatly hidden between braids or Senegalese twists.
Between my Mum, Wura and Gbonju, I experienced an unsequenced, well articulated 'intervention'. I didn't make any promises, but I did resolve to 'do better' more consistently.
Heels would ordinarily have been my first step towards my 'come back' but given that I walk up four flights of stairs every morning, I passed on that struggle (thank you very much)! The other option was Make-Up.
My Make-Up is pretty basic, so this shouldn't be much of a problem, right? Wrong! My biggest issue has been an oil defying, sweat resistant (I'm actually not kidding) PRIMER. At the end of every day, I find that a considerable amount of my oily skin disintegrates my LA Girl HD, boils through my MAC NW45 and my Make-Up in general starts to slip right off my face. Once or twice, I've tried to psyche myself into thinking it's a 'dewy look' but it's not. Ladies, I need your help!
I've read bareMinerals is pretty decent (it's made with natural ingredients)…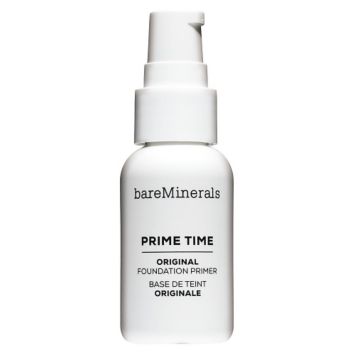 But I had a conversation with Wura last night and she pretty much swore by Becca Ever-Matte Primer…
Any suggestions? Maybe I should take this to the Insta-polls…?
Meanwhile, I think this has been one of my best Make-Up looks all YEAR…. AND it's a picture of myself that I actually like, so I'm just going to drop. this. right. here.
xXx
Ps: Can I be Victoria Beckham for a day? LOVE that lady! Need to get my hands on a copy of October's Vogue (my birthday month, whoop!)
Pps: A holiday is much needed. I'm still keen on seeing the world
Pps: What do you think of the heading 'Plastic'? I kinda like it.